Solutions Bitrix24 package - Self-hosted Copyright
Demo image used under license by corporations Bitrix24
Available for over 35 support tools: 
Communication - Interaction - Management
Over 1 million
businesses were applied effectively in practical activities
The top 3 best management tools in the world
in 2015 by Forbes voted.
Highest- Ranking
 among solutions for managing enterprise 2.0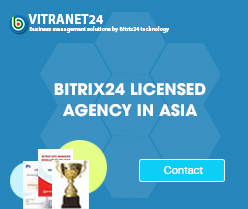 For the development of enterprises, use Bitrix24 to::
Create real online work environments, comprehensibly and effectively.
Promote the communication and exchange of work, rapid transmission of information.
Remove the work culture of stagnation, passivity in the system
Control all the work, resources, make precise and scientific information.
Manage human resource comprehensibly, construct employee evaluation criteria properly.
Absolute security systems by technology Pro, Pro+
The system does not require high server configuration, help to saves operating costs.
Using multiple languages, has a free  Vietnamese version by Vitranet24 suppliers.
Manage customer relationships well through powerful CRM system
Inherited more than 35 different instruments according to the management standards of the world.
Owning real system through the transfer code and source code
Order our product, you will receive the gift:
Give a configuration, install and optimize Sever package
VALUE:  $ 440 
Give an installed Vietnamese language version 
VALUE: $ 220
Give a training package includes 3 sessions about direction for use with the documentation
VALUE: $ 350
Give a package of technical support and free warranty for 1 year
VALUE: $ 660
Give a .COM domain name for the first year
VALUE: $ 16
Commitment to quality:
We are committed to applying Bitrix24 will certainly be effective for you.
Within 2 months after handing over the product, if you have not seen results, Vitranet24 ready to recover the product and 
refund at least 60% of the products delivered cost.
Edition
Bitrix24.CRM

$1,490

Business

From $2,990

Enterprise

From $24,990

Intranet Users Included
0-12
50-500
>1000
Number of functions
Limited
Unlimited
Unlimited
Extranet Users
No
Yes / Unlimited
Yes / Unlimited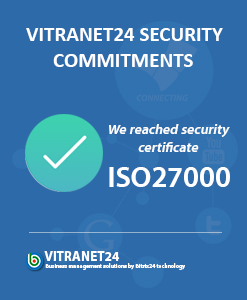 Vitranet24 -  Bitrix24 technology's deployment represent in Asia 
Deputy General Manager
Ngoc Manh Dao
There is a large experts team be awarded master of Bitrix platform certificate, tech-savvy Bitrix24 professionals  as the top experts of the corporation Bitrix.
Is the sole representative of Bitrix in Vietnam, responsible consultant, handling matters related to technology platforms, technical support during use, support of trade partners in providing products in the market of  Vietnam and Southeast Asia.
More than 10 years of experience in research and accompanies Bitrix corporations during the research and apply Bitrix24 product process in the world.
Support Bitrix firm handle difficult technological problems of customers in Asia send.
Vitranet24 commitment to deliver the product until you can apply effectively only. Buy at Vitranet24, businesses would cost a discount of up to 20%
VAT invoice is complete
Get technical supporting and help to handle  all difficulty during operating
Get using Bitrix24 advice according to each business model by experts leading management consulting.
In addition to the existing features on Bitrix24, Vitranet24 capable of expansion, unlimited development for specific features requested by customers
Expert team have many years experience in deployment, ensuring successful deployment projects  and on time.